You are here

A Guide to Determining if You Should Work with a Financial Advisor
A Guide to Determining if You Should Work with a Financial Advisor
Submitted by The Blueprint 360 | Financial Clarity Within Reach on June 24th, 2022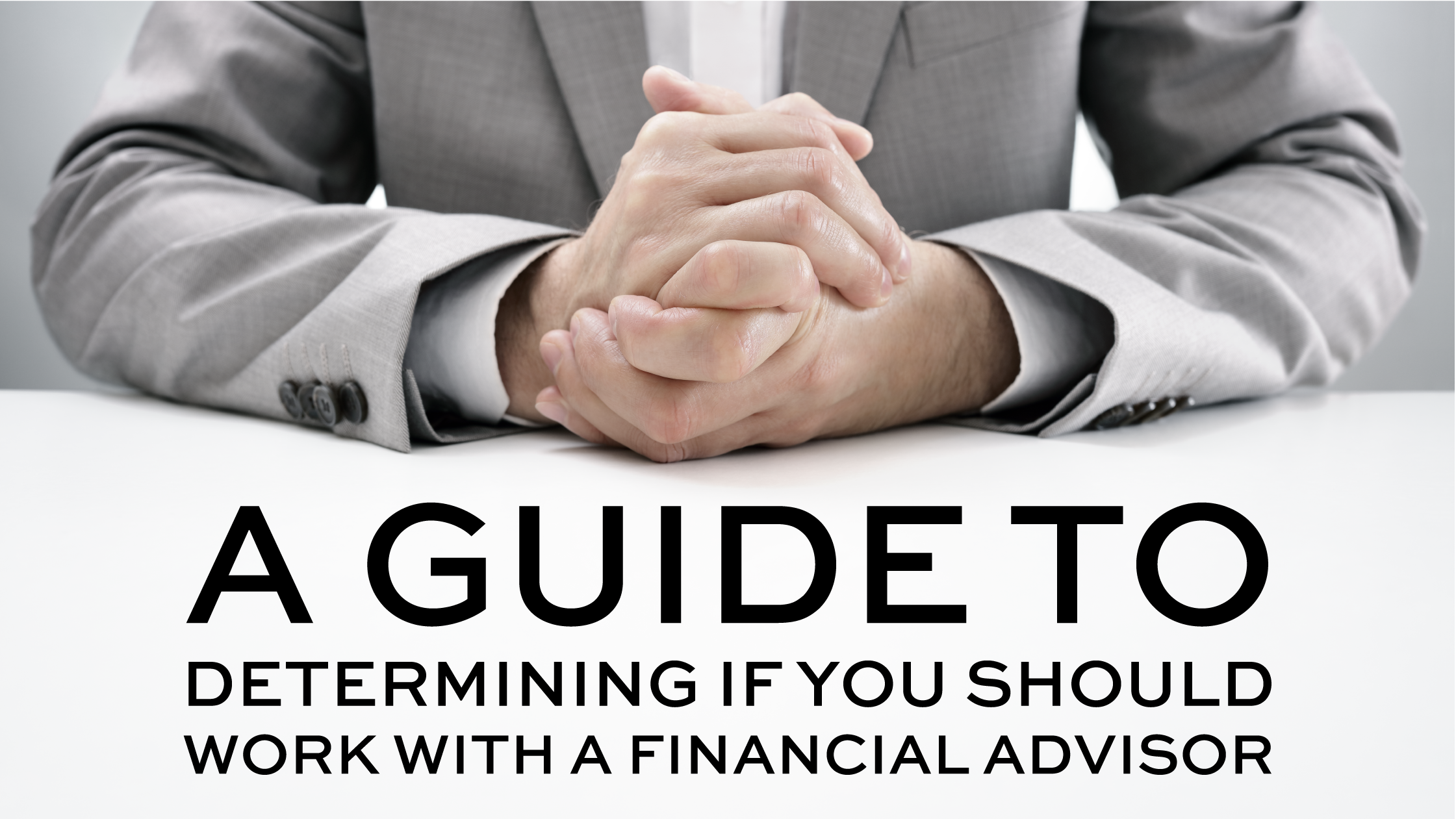 At times, it can feel as if the odds of being financially stable are stacked against you. Between bills, college loans, rising home costs, and a challenging job market keeping your head above water can be overwhelming.

According to a 2021 study, the top source of stress for actively working Millennials is their inability to save money for retirement.1 At a close second is not having enough in an emergency fund. The key takeaway: an inability to save money are key drivers behind financial stress.

But despite these anxieties around saving enough, saving is a top priority for Millennials. One study found that nearly three out of four Millennials are saving, with roughly a quarter having $100,000 or more set aside.2

When it comes to making decisions about how to manage, save, and invest their money, however, most Millennials say they feel undereducated and ill-equipped to take on this challenge. In fact, a survey showed 84 percent of Millennials believe high school did not prepare them for handling personal finances3. And feelings of financial insecurity are rampant. Seventy-five percent of Millennials aren't confident about their current financial situation and 73 percent aren't optimistic about their financial future.2

Why Seek Out Financial Help?
Regardless of age, we can all benefit from some guidance when making big financial decisions. However, the good news for Millennials is that you are in a unique position to affect your financial future. Because of your age, you have ample time to make an impact in your financial situation and stand to gain significantly from taking action today—however small—to improve your finances. However, it can be difficult knowing when (and who) to ask for professional assistance.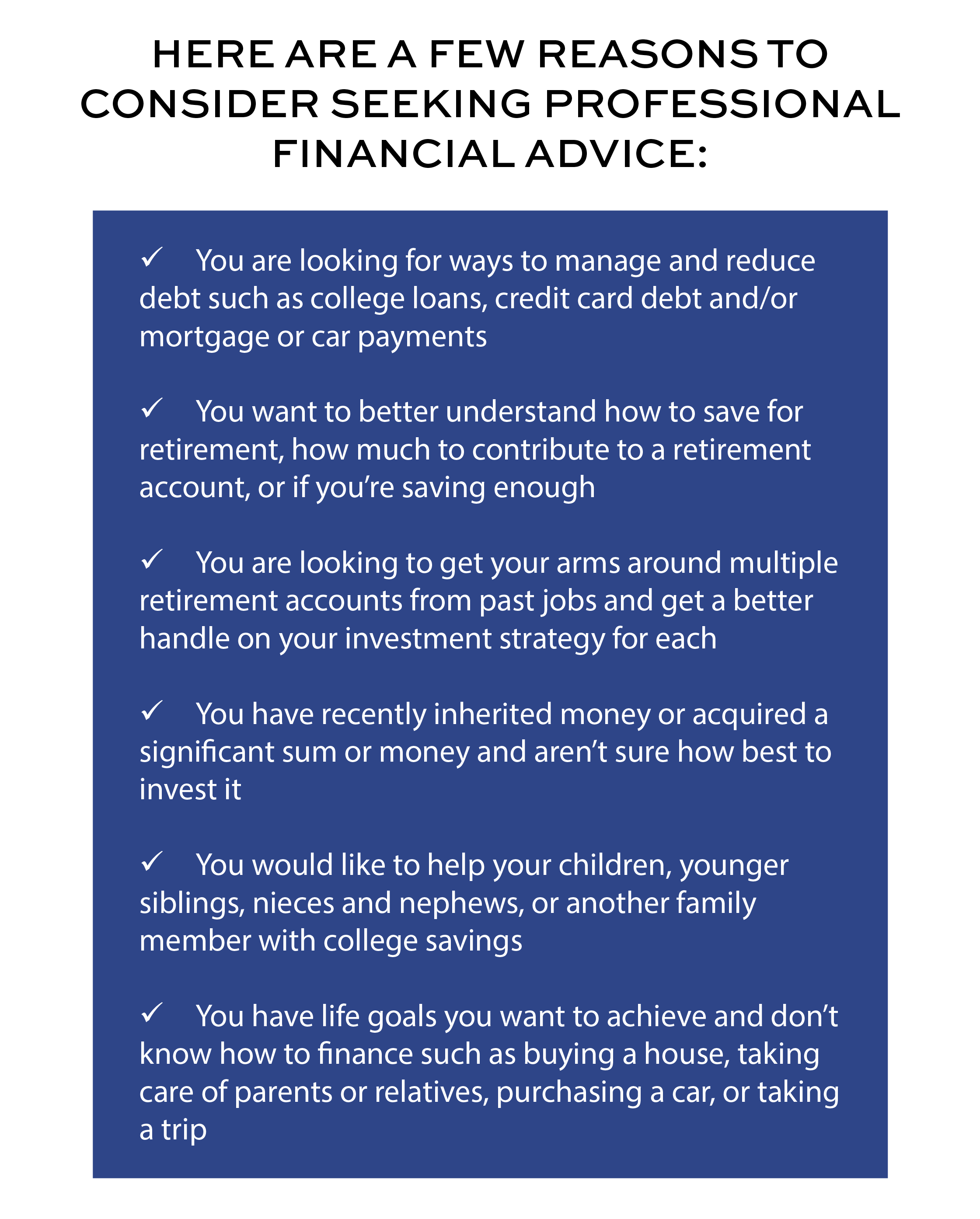 Financial advisors can work with you to identify your short- and long term financial goals, help educate you on your investment options, and provide you with a personalized plan for reaching them.
If you're deciding if a financial advisor can help you, or if you're curious about how Blueprint 360 can help, don't hesitate to contact us today.
1. "U.S. Retirement End-Investor 2021: Solving for the Decumulation Phase," Cerulli Report. 2021
2. Plepler, Andrew. "Better Money Habits Millennial Report: Winter 2020." Bank of America, 2020. https://about.bankofamerica.com/assets/pdf/2020-bmh-millennial-report.pdf 
3. "Remake the School System." Nitro. 2019. https://www.nitrocollege.com/research/remake-the-school-system
Disclaimer: This article is provided for general information and illustration purposes only. Nothing contained in the material constitutes tax advice, a recommendation for purchase or sale of any security, or investment advisory services. I encourage you to consult a financial planner, accountant, and/or legal counsel for advice specific to your situation. Reproduction of this material is prohibited without written permission from Charles Adi, and all rights are reserved. Read the full disclaimer here.