You are here

4 Ways Interest Rate Increases Will Affect Your Finances
4 Ways Interest Rate Increases Will Affect Your Finances
Submitted by The Blueprint 360 | Financial Clarity Within Reach on November 25th, 2022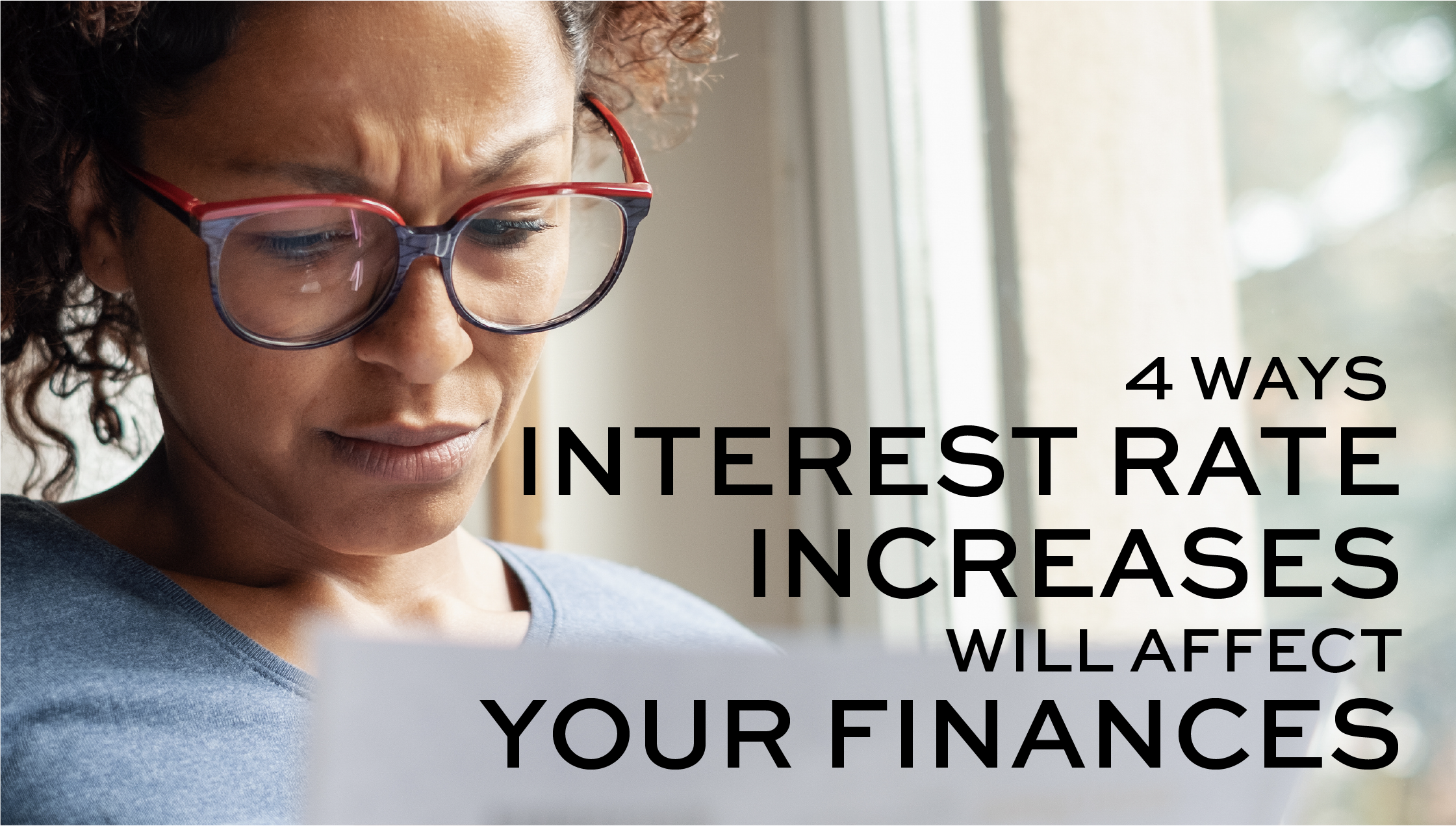 Many forces affect our financial health: some within our control, and others outside it (like interest rates set by the United States Federal Reserve System). As interest rates are raised to combat inflation, you'll begin feeling it on larger purchases like cars, furniture, and home expenses. Though these rates aren't in your control, you can prepare for the changes they bring.
In this post we'll cover four important areas where interest rates are likely to impact your own finances.
Housing
Interest rate increases mean different things for those buying and selling property, and those with rental leases. If you're selling your home, it can become more difficult despite low inventory and high demand for housing. You may need to lower your asking price to make your home an attainable and attractive option for the shrinking purchasing power of buyers.
If you are planning to buy, it may be time to revisit your budget and compare how much you can afford now versus in the past – even if your income hasn't decreased. The percentage you'll pay on interest in your mortgage will likely increase, taking up more of your overall budget. This means you may need to consider a lower priced home to ensure you can afford it long-term.
The rental market will also be impacted. As purchasing power decreases more people stay in their apartments, furthering the trend of rising demand and lack of open rental units. Additionally, landlord costs will rise with interest rates and further impact rent increases when it's time to renew.
For those with existing mortgages: if you purchased your home and opted for a fixed-rate loan, you won't be affected by rate increases because the terms were set for the life of your loan. However, if you have an adjustable rate mortgage (ARM), your monthly payments may go up since it only grants a fixed rate for a pre-set period of time at the beginning of your loan2. After the period has ended, your interest rate will rise with the current market.
Loans, Lines of Credit, and Credit Cards
In times of elevated interest rates, it is likely to see higher rates on auto loans and financing of expensive items. These shorter-term loans follow the Fed fund rate3. Though individual banks and lenders set their interest rates themselves, it is rare that they deviate from the target rate of the Fed. Additionally, you may be discouraged from refinancing home, auto, or other loans, as the new rate is unlikely to be lower than what you are currently paying.
Credit card interest percentages will also rise in line with the Fed fund rates, meaning rates on new and existing credit cards may go up. If you currently have credit card debt, it may be a good time to focus on paying down your balance on higher-interest cards.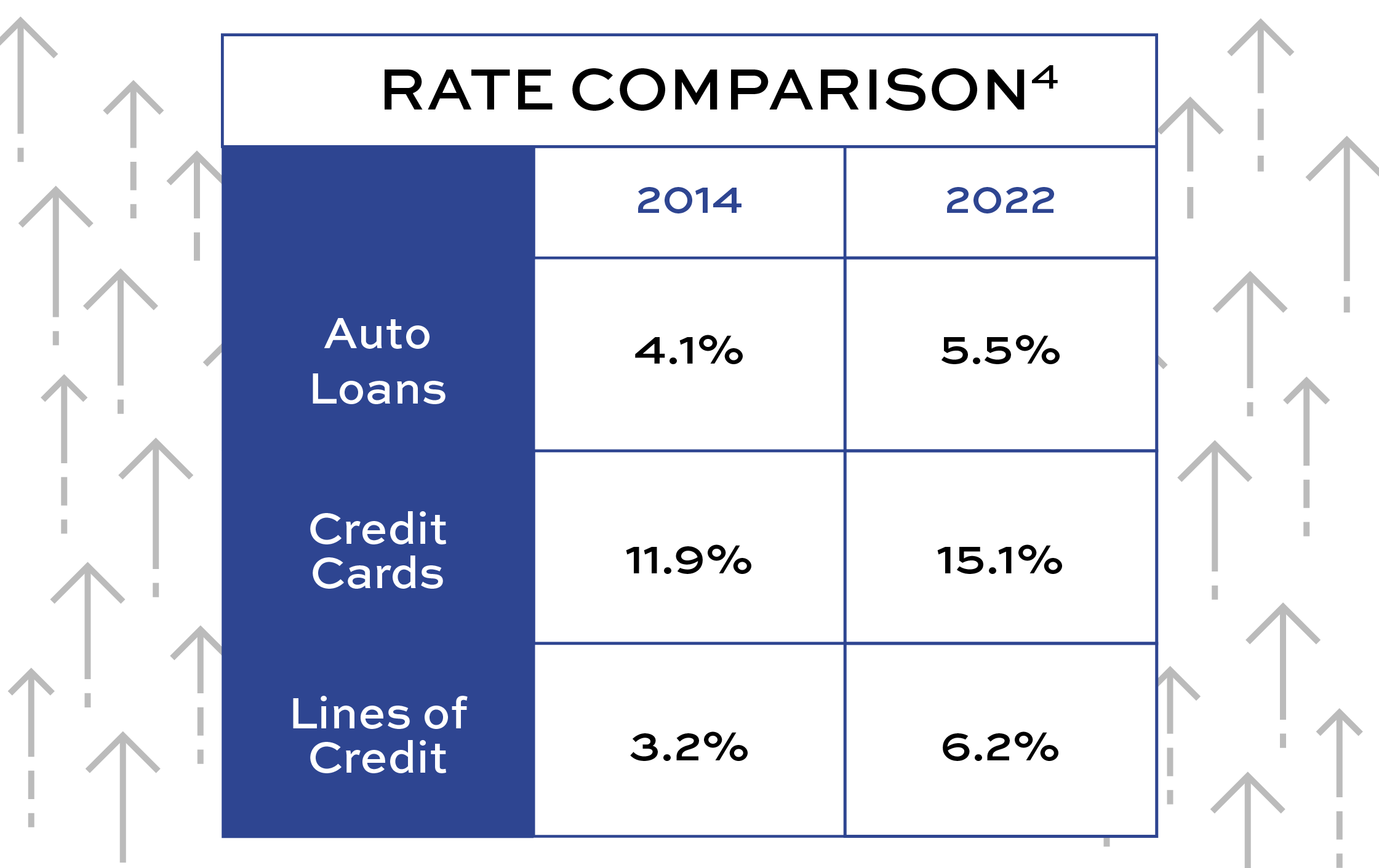 Investments
You may see an impact on your investments due to rising interest rates. As inflation persists and people have higher costs in their day-to-day lives, the demand for buying and selling stocks in the market may change.
Overall, higher interest rates often lead to lower corporate profits and a negative impact on stock prices. However, the financial sector (like banks, insurance companies, and lenders) typically benefits from higher interest rates.
Company-sponsored retirement plans such as your 401(k) and 403(b) may suffer as companies work to offset rising costs and consumer confidence. As a result, you will likely see decreases in your account balance and may need to diversify your portfolio to combat market volatility.
How close you are to retirement age may impact how you respond to the effect of interest rates on your investment portfolio. Talking to your financial advisor can help you determine if you should shift your investment strategy to one that has lower risk.
Overall Economy
On a larger scale, rising interest rates aim to shift market conditions in a number of ways that can directly impact your individual finances. As the cost of borrowing money becomes more expensive, products and services become harder to buy.
With people spending less, businesses must cut costs leading to a higher likelihood of layoffs5 or hiring freezes. At the same time, interest rate increases are used to combat inflation and eventually lead to lower prices on goods like groceries and necessary spending.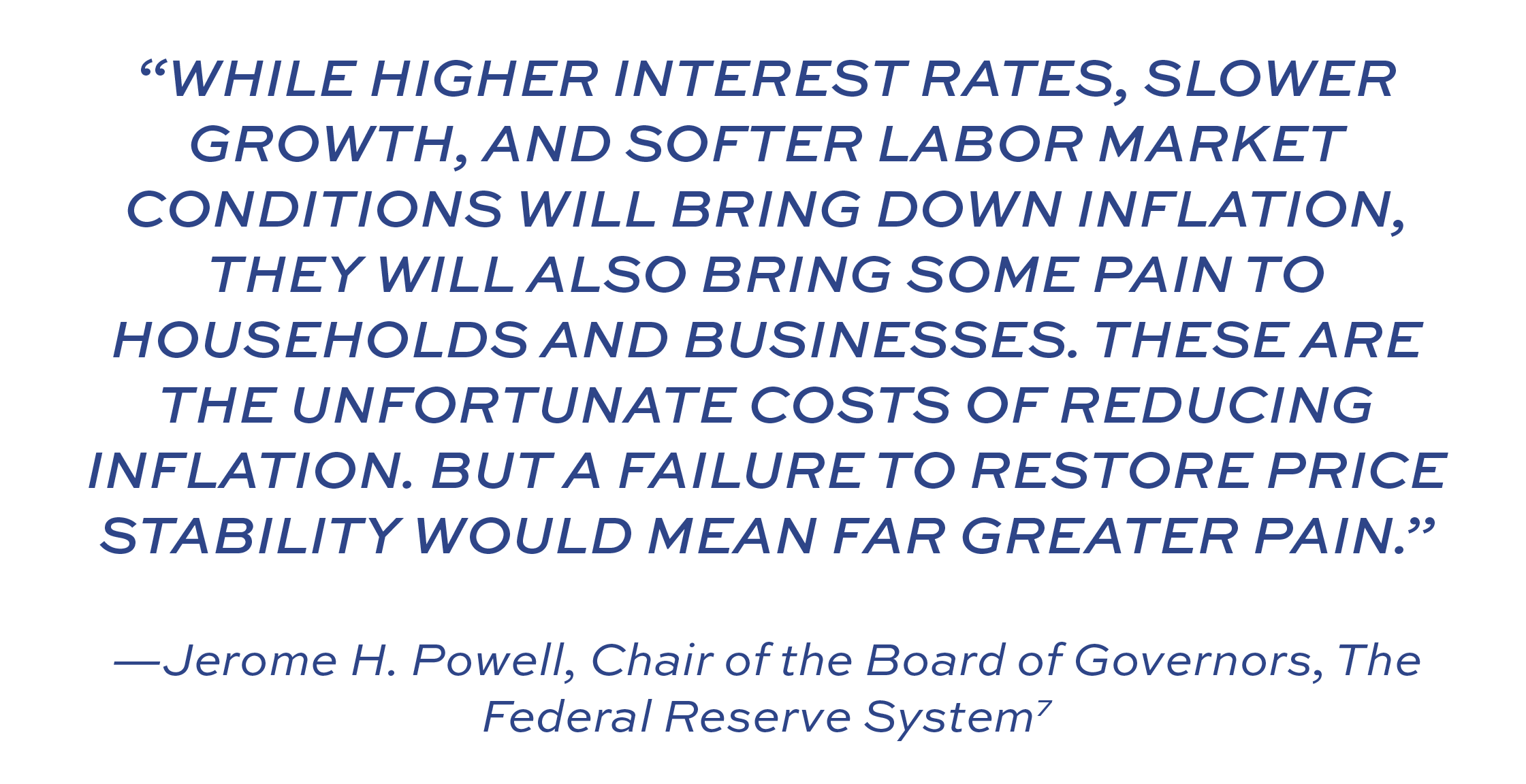 Conclusion
After dramatically low interest rates that began in 2020 during the COVID-19 pandemic, the Fed began raising interest rates in 2022, in effort to curb inflation and stabilize the economy. These rate increases are proposed to continue into 2023.
Now that you know the ways that increases of the Fed fund rate will impact you, you may be wondering what to do next. The best course of action is to connect with your financial advisor, to take a thorough and unbiased look at your finances. Together, you can determine which areas will have the most positive impact on your financial health. As you prepare for interest rate increases, get in touch with Blueprint 360 to assess your risk factors and assets.
1. "How is the Federal Reserve System Structured?" The Fed FAQs. https://www.federalreserve.gov/faqs/about_12593.htm
2. "What Is An Adjustable-Rate Mortgage?" Experien, 2018. https://www.experian.com/blogs/ask-experian/what-is-an-adjustable-rate-m...
3. "When Will Interest Rates Go Up?" The Balance, 2022. https://www.thebalancemoney.com/when-will-interest-rates-go-up-3306125 
4. Board of Governors of the Federal Reserve System (US), Interest Rates Category Graphs, Retrieved from FRED, Federal REserve Bank of St. Louis. November 4, 2022. https://fred.stlouisfed.org/categories/22 
5. "The Impact of Interest Rate Changes by the Federal Reserve." Investopedia, 2022. https://www.investopedia.com/articles/investing/010616/impact-fed-intere...
6. Board of Governors of the Federal Reserve System (US), Federal Funds Effective Rate [FEDFUNDS], retrieved from FRED, Federal Reserve Bank of St. Louis. October 19, 2022. https://fred.stlouisfed.org/series/FEDFUNDS 
7. https://www.federalreserve.gov/newsevents/speech/powell20220826a.htm Jerome H. Powell, Chair of the Board of Governors, The Federal Reserve System. "Monetary Policy and Price Stability." Reassessing Constraints on the Economy and Policy Symposium. August 26, 2022. Jackson Hole, Wyoming.
Disclaimer: This article is provided for general information and illustration purposes only. Nothing contained in the material constitutes tax advice, a recommendation for purchase or sale of any security, or investment advisory services. I encourage you to consult a financial planner, accountant, and/or legal counsel for advice specific to your situation. Reproduction of this material is prohibited without written permission from Charles Adi, and all rights are reserved. Read the full disclaimer here.